From Grass Roots…
In 2009, members of the Port Franks Beach Homeowners Association and the Windsor Park Association became concerned when monoculture stands of non-native invasive Phragmites australis (European Common Reed) appeared on the Port Franks beach and in surrounding waterways flowing to Lake Huron (Ausable River and Mud Creek). The Lambton Shores Phragmites Community Group (LSPCG) was created as a result of this concern.
Pictured above are the LSPCG Directors, June 2022.
Front left to right: Ray Horban, Nancy Vidler, Nette Pachlarz, Janice Cuckovic, Sandra Marshall
Back left to right: Paul Petersen, Bill MacDonald, Petar Cuckovic, Derek Scott
A group of dedicated volunteers, the Lambton Shores Phragmites Community Group is committed to working together with other organizations and private landowners to restore wetland habitat and beaches and control invasive Phragmites. Currently, control efforts have been initiated on over 120 ha (300 acres) in Lambton Shores.
Members of Council for the Municipality of Lambton Shores and staff have supported our efforts, including our request to hire a wetland ecologist to create a Management Plan for the Municipality and have provided partial funding for our remediation projects and other initiatives.
The Management Plan can be viewed here: click here
We have worked with many partners over the years in our restoration efforts. Our belief in working with all levels of government and other like-minded community groups has allowed us to achieve the collaborative level of success we have enjoyed.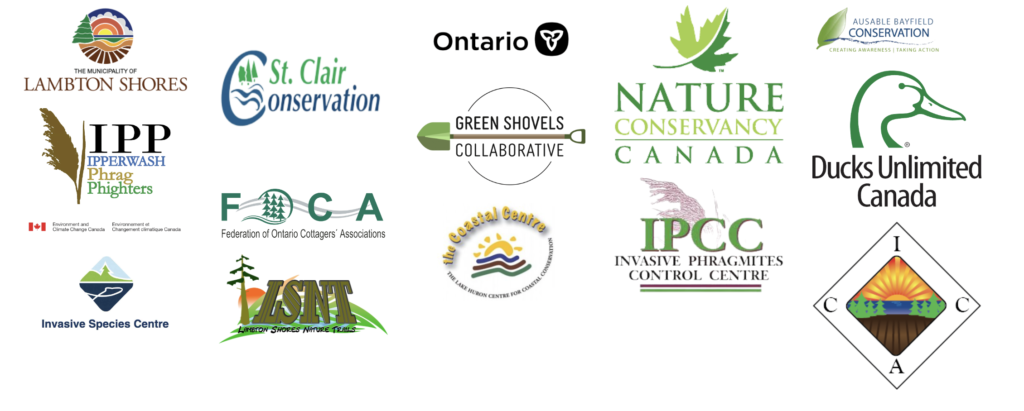 We are also greatly indebted to the many volunteers who have put in thousands of hours of work throughout Lambton Shores! It would not be possible without them!
Our project areas: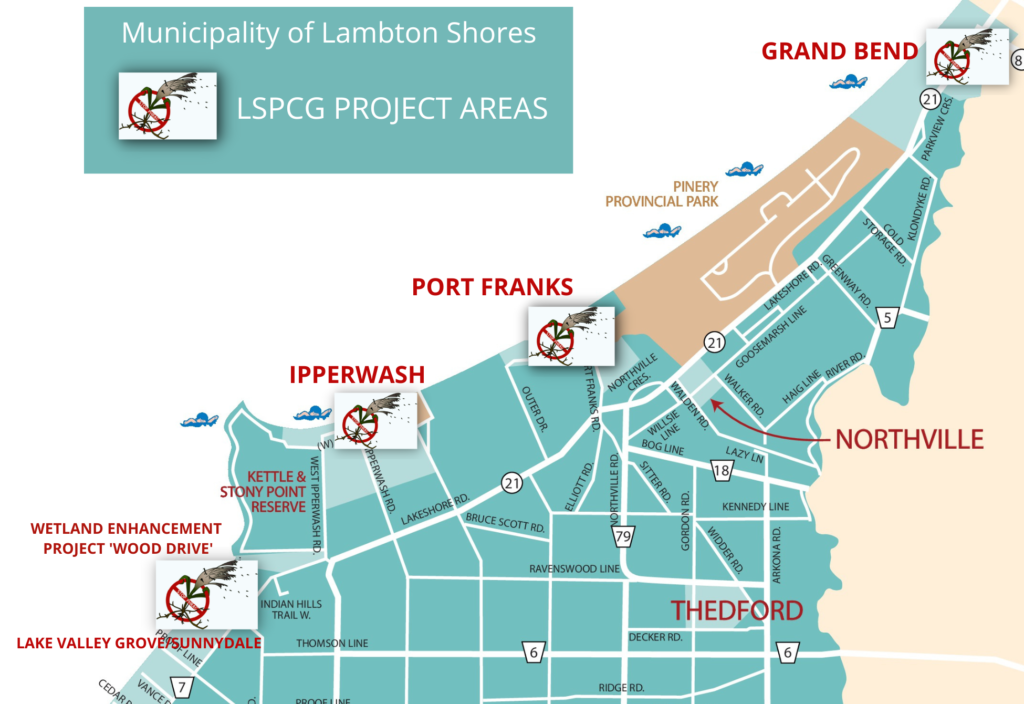 Some of our Accomplishments
The St. Clair Region CA Conservationist Award:
The LSPCG was the 2019 recipient and Sandra Marshall was the 2021 recipient of this award!
The Minister's Award for Environmental Excellence:
recognizes outstanding work in environmental protection
encourages others to make their own efforts to reduce their impact on Ontario's environment
fosters innovation in environmental protection
raises awareness of the importance of protecting the environment

An Honourable Mention was given to the LSPCG for the restoration work done in Port Franks partnering with the Ausable Bayfield Conservation Authority and Nature Canada Conservancy in 2014.
The Ausable Bayfield Conservation Authority Conservationist Award:
has recognized outstanding achievements in conservation since 1984.
acknowledges individuals or a group per year who demonstrates positive conservation principles.
recipient must have undertaken conservation efforts over a number years that have shown long-term benefits for the natural environment and society.

This award was given to the LSPCG in 2016 as recognition for the restoration work done in the Ausable Bayfield Conservation Area watershed.
The Municipality of Lambton Shores:
The Environment Award: Awarded to an individual and/or group for contribution to the protection, preservation, beautification, awareness and/or promotion of our local environment.

In 2017 the Lambton Shores Phragmites Community Group received the group award, and Nancy Vidler, Chairperson, received the individual award.

Good Neighbour Awards: awarded to Lambton Shores residents and/or groups for their outstanding efforts and actions that have enhanced or improved our community. A maximum of three individuals and/or groups per ward may be awarded each year.

In 2017 Sandra Marshall was one of three recipients for the individual award for her work in the Ipperwash community.

Civic Award: Recognizes individuals who have made an outstanding voluntary contribution to the well-being of our community over a number of years. This award recognizes local champions who build communities and show us all what can be achieved with passion and determination.

In 2022 Janice Cuckovic was the recipient of this award.
The Invasive Species Centre Awards:
The Leadership Award: The winner of this award champions and breaks ground, leading and thereby transforming or improving invasive species prevention and management in Canada, creating meaningful and long-lasting impact in their communities through their forward-thinking and dedication.

Nancy Vidler was the 2022 recipient of the Leadership Award!!!
Publication Features:
September 2017 E-Newsletter Volunteer Spotlight: Giving Lake Huron a "Phighting" Chance featured Sandra Marshall
LSPCG has been featured in numerous blogs, articles and websites including Ontario Nature, Ducks Unlimited Canada, Sarnia Observer, London Free Press, Lakeshore Advance to name a few
In 2021 our vice chair Bill MacDonald was featured in a CBC interview. You can hear it here.
Join Us…
Our goal of controlling this invasive species is only possible through strong support from our volunteers and sponsors. Join our team